Permanent exhibitions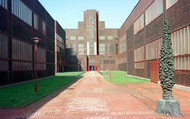 Permanent exhibitions offer fascinating insights into Essen's history and other specific themes.
"The palace of projects" in the Zollverein coking plant
The "
Palast der Projekte
" by Ilya and Emilia Kabakov is a permanent exhibition in the former salt store of the Zollverein coking plant. The two artists have assembled more than 60 project proposals for ways to make the world a better place. In a walk-through spiral-shaped sculpture, reminiscent of the Tatlin Tower, the ideas and dreams of fictitious people are explored.
"Experiences to develop the senses" (Hugo Kükelhaus) in the Zollverein mine
See and hear, taste and smell, touch and explore. This interesting and educational permanent exhibition is all about stimulating the senses. There are around sixty interactive exhibits for visitors of all age groups to play with and on which to create and observe phenomena such as sound, light or movement.
Essen's cathedral treasury
Essen has one of Europe's most important collections of church treasures, for which it owes thanks to the Princess-Abbesses who ruled the city for almost a thousand years. The cathedral treasury has works of art dating from the period between 980 and 1060. The collection is one of the few church treasuries that has never been plundered, which further adds to its value in terms of art history.
Top of page
Map of Germany
Map showing all of Germany's TOP travel destinations...
Click here!
Search in surrounding area