Places of interest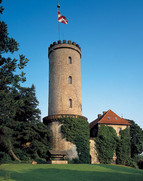 The modern skyline of Bielefeld features both old and modern architecture. There are large parks and wide pedestrianised areas where you can go for a stroll and take in the sights along the way: historic buildings and monuments such as the Ravenberg spinning mill, the early-Renaissance Spiegelshof building, the archaeological museum "Archäo Welle" and exquisitely decorated churches.
Sparrenburg Castle
Sparrenburg Castle was built between 1240 and 1250 and is Bielefeld's oldest and most famous landmark. It stands on a hillside in the Teutoburg Forest and in earlier times was used to watch over the city of Bielefeld and the Osning pass. Sparrenburg Castle resisted several sieges during its history. There are magnificent views from this restored fortress over the city and surrounding area. You can explore the well-preserved underground rooms and passageways which run through the north-west and south-east sections of the castle. Every year the castle forms the impressive backdrop to the medieval Sparrenburg festival.
Neustadt Church of St. Mary
The Church of St. Mary in Bielefeld-Neustadt is the most important building in Bielefeld in terms of art history. The cruciform Gothic hall church has two steeples and houses art treasures such as the altar of St. Mary, a winged altar which has 13 images dating from 1400. Many of Bielefeld's aristocracy found their last resting place in tombs within the church. The church also contains a splendid, late-Gothic crucifix from the early 16th century and an ornately carved pulpit dating from 1681-83, created by the master craftsman Bernd Christoph Hattenkerl.
Alter Markt square
At the centre of Bielefeld's old town is Alter Markt, the old market square. It contains a fountain with a statue of the Roman god Mercury and is surrounded by patrician town houses. Don't miss the Crüwell Haus with its magnificent late-Gothic stepped gable dating back to 1530. On the stairs and in the hallways you will find 7,000 delft glazed tiles from the 16th to 18th centuries. On the north side of the market square is the "Theater am Alten Markt" theatre. The simple structure gives little indication of the remnants of the medieval town hall concealed within.
Top of page
Map of Germany
Map showing all of Germany's TOP travel destinations...
Click here!
Search in surrounding area