Suggested excursions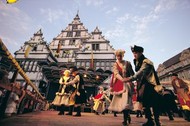 Only the Teutoburg Forest has so much to offer - the "pastures" in the west with their wide sandflats and heathland, dunes, fragrant pine forests and wetlands; or the meadows and fields of corn and rape around Gütersloh where the many brick-red farmsteads dot the landscape like little red spots of paint. Travelling on foot or by bike are particularly pleasant ways of exploring the area. Not far from the forest are the towns of Gütersloh and Paderborn. Why not visit the "barefoot walking trail" in Bad Wünneberg for a very special experience.
Wellness cycle route
The Wellness cycle route is made up of quiet and well-signposted trails which cover a distance of over 500km through the stunning countryside around the Teutoburg Forest. Along the way you will come across historic town centres, magnificent palaces, old cathedrals, churches and abbeys such as Paderborn cathedral or the imperial abbey in Corvey near Höxter, as well as old Hanseatic towns and small Westphalian villages. The Wellness cycle route is unique in combining a pleasurable cycle ride with plenty of opportunities to indulge in wellness activities. This is because the route passes through five large spa resorts and nine state-approved climatic and hydrotherapy health resorts in the Teutoburg Forest.
Potts Park in Minden
"Join in and have fun!" is the motto at Potts Park. This park has exciting water attractions, thrilling rides and slides, and lots of other fun and games. There's lots to see and do and you will marvel at so many things. Kids especially never get bored at Potts Park. If it rains, there are 5,500 square metres of indoor activities and if you get hungry, there are lots of different places you can buy food and drink. If you have a little more time to spend in Minden you could visit the water mill or go and see the "waterway crossroads".
Paderborn
This imperial, episcopal and Hanseatic city is around 1,200 years old but is also a vibrant, modern city which is easy to find your way around. Modern technology and medieval architecture sit side by side in stark contrast with one another. The city's most famous landmark is the magnificent 12th or 13th century triple-naved cathedral with its towering west steeple. It also contains the largest crypt in Germany. St. Bartholomew's chapel is part of the re-constructed Ottonian-Salian imperial palace and dates back to the 11th century. It is a hall church built in the Byzantine style and has incredible acoustics.
Top of page
Map of Germany
Map showing all of Germany's TOP travel destinations...
Click here!
Search in surrounding area