Events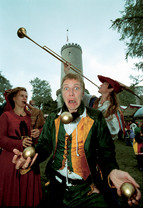 Bielefeld's packed calendar of events has something for both young and old. During the Carnival of Cultures the whole city goes crazy. During the annual linen weaver market, the largest city centre festival in the region, the old town fills up with countless stages and fairground rides. At the medieval castle festival there's lively entertainment and performances by jesters. There are also open nights when the city's museums, churches and galleries open their doors to the public for the whole night. The crowning glory of the year is the Christmas market when the multitude of half-timbered houses in the old town are covered in festive decorations.
Sparrenburg festival
Every year on the last weekend in July, more than 50,000 people converge on Sparrenburg Castle at the heart of Bielefeld to experience a medieval market from 500 years ago. A lively crowd of jesters, minstrels, bards and traders fill the courtyards of Sparrenburg Castle and make for an exciting and fun-filled event.
Carnival of Cultures
During the Carnival of Cultures Bielefeld city centre and Ravensberg Park are transformed into a sea of colour, noise and astounding creations. Around 70 carnival groups from around the world take part in the event. There's a lively and party-like atmosphere to the parade through the city centre with music from live bands at various points along the route.
Wine market
Although no wine is produced in the Teutoburg Forest there is an annual wine market held in Bielefeld's old town. You can taste lots of different wines from German wine-producing regions in the delightful and welcoming atmosphere of Bielefeld's Alter Markt square, Niedernstrasse and Kirchplatz square in the old town. You can also try some culinary delicacies along with the wine. In the evenings there are brass band and jazz concerts taking place around the city.
Top of page
Map of Germany
Map showing all of Germany's TOP travel destinations...
Click here!
Search in surrounding area