Seminar venues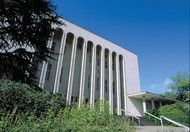 Could it get any more unusual? For example, meeting and working surrounded by art and culture or in one of the most famous concert halls in Germany? Bielefeld has such a diverse range of facilities it will surprise even the most demanding conference attendee.
Bielefeld Museum of Art
Bielefeld's Museum of Art is the perfect venue for stylish receptions and other special occasions. Since it opened in 1968 it has caused quite a national sensation with its exhibitions of 20th and 21st century art. This interesting building designed by the architect Philip Johnson can accomodate up to 250 people.
Rudolf Oetker Halle concert hall
Its outstanding acoustics and unique architecture make the Rudolf Oetker Halle, inaugurated in 1930, one of the most beautiful concert halls in Europe. Its two auditoriums, foyer, covered walkways and side rooms can accomodate up to 1,560 people. There is also a café serving light refreshments.
Samuelis Baumgarte gallery
This gallery, famous for its exhibitions of international contemporary art, can be found in the city centre. Hot tip: the exhibition rooms which are up to 250 square metres in size can be hired for special events, with or without works of art. There is plenty of space for receptions, symposia, workshops, formal dinners and balls.
Top of page
Map of Germany
Map showing all of Germany's TOP travel destinations...
Click here!
Search in surrounding area