Places of interest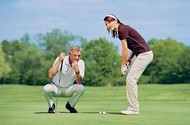 Bad Saarow lies at the northern tip of Scharmützel Lake in an idyllic setting amid lakes and undulating hills, around 60 kilometres south-east of Berlin in the Oder-Spree lake district. The Hobbythek creative arts centre offers a wide range of activities and courses. The spa gardens were once a Russian military sanatorium but are now an excellent example of how military facilities can be converted for civilian use. Thanks to acclaimed golf course designers, both novices and seasoned pros can enjoy an excellent round of golf in Bad Saarow.
Hobbythek at Saarow Centrum
At Hobbythek you can join in a program of cultural and recreational activities and give free rein to your creativity. You can make handicrafts, cook, play music or just relax, however the mood takes you. There are also classes in pottery, painting and music as well as yoga for beginners and advanced practitioners.
Spa gardens
The Bad Saarow lakeside promenade in the spa gardens is one of the most beautiful walks in the Brandenburg region. On one side is Scharmützel Lake, its waves lapping against the shore, and on the other are imposing villas. It's hard to believe that just 15 years ago the spa gardens were used by the Russian military and were a no-go area for the public. After 1990 the thermal spa was set up in the spa gardens, and the park café was renovated and extended to include the "Theater am See" venue. The visitor's centre was moved into the restored building of a former peat spa.
Golf resort
There are quite a few golf resorts across the world but only a few in Europe. The Nick Faldo golf course is the only one of its kind in Europe and is one of the most demanding courses in Germany. Undulating fairways and landscaped greens sit in contrast with 133 classic Scottish pot bunkers. It really is a place for golf lovers with a demanding course set in fantastic countryside. Holes 10 to 18 certainly rank amongst the finest back nine in the country. The club also has a public nine-hole course and large driving ranges as well as a golf school offering instruction at all levels.
Top of page
Map of Germany
Map showing all of Germany's TOP travel destinations...
Click here!
Search in surrounding area