Nature & greenery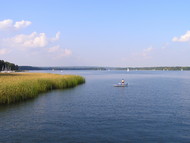 The state of Brandenburg is renowned for its magnificent countryside. Its rich and varied landscape is made up of picturesque lakes, large expanses of forest, the occasional peat moor and large tracts of cultivated land. The spa resort of Bad Saarow and surrounding villages hug the northern tip of Scharmützel Lake. In the wildlife park there are pheasants and raccoons from east Asia as well as animals indigenous to the region. The Oderbruch marshland area is a beautiful place to visit, even in the wintertime.
Scharmützel Lake
Scharmützel Lake, also known as "Brandenburg's Sea", lies in the Oder-Spree lakeland area. It is a typical "finger lake" as well as being the largest lake in Brandenburg. The lake is directly connected with the canals and waterways of Berlin via Lake Storkow. The local ferry service has air-conditioned passenger boats which take visitors on tours of some of the most beautiful areas in the region.
Pheasantry and wildlife park
The pheasantry and wildlife park is located on the west coast of Scharmützel Lake. The 9,000 square metres of park are home to 200 animals of 40 different species. You will mainly see small animals such as Australian Bennett kangaroos and South American chinchillas, as well as miniature horses, coypus and nandus. The wildlife park is open the whole year round and is popular with all ages.
Oderbruch
The 80 kilometre wide strip of land between Berlin and the river Oder can rightly be counted amongst the most beautiful areas in the Brandenburg region. Mother Nature clearly couldn't decide between sandy plains, lakes, hills or flood plains and so created them all. Running through the middle of large pine forests is a chain of wonderful lakes, which give way to hills and dense mixed forest, deep gorges and finally the pastureland of the marsh. This area is also known for the changing colours of its landscape which reflect the changing seasons.
Top of page
Map of Germany
Map showing all of Germany's TOP travel destinations...
Click here!
Search in surrounding area