Art & culture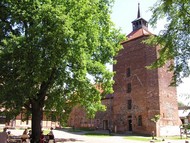 The area around Bad Saarow is steeped in history and is associated with famous names such as Gorki, Kleist and Fontane. The town of Fürstenwalde is famous for its cathedral and has links with the German painter Heinrich Zille. The castles at Storkow and Beeskow have had a chequered history, undergoing many alterations and changes of ownership down the years.
Fürstenwalde Cathedral
The 68 metre high steeple of St. Mary's Cathedral in Fürstenwalde can be seen for miles around. Together with Brandenburg an der Havel and Havelberg, Fürstenwalde is one of the three cathedral cities in the state of Brandenburg. In its current form, St. Mary's is a triple-naved cathedral church which was built in the mid-1400s. The steeple is a particularly noteworthy feature. The most valuable part of the interior is the 12 metre high sacrament house created by the master woodcarver Tilmann Riemenschneider which dates back to the year 1517. Concerts are regularly held in the cathedral.
Storkow Castle
Storkow Castle was originally a moated medieval fortress built on a fieldstone base and is one of the oldest and most important castles in East Brandenburg. Excavations suggest that it was constructed soon after 1136 as a border stronghold by the once powerful Wettin dynasty. In the early 16th century the Bishops of Lebus made considerable alterations to the castle, adding elements of Renaissance-style architecture.
Beeskow Castle
Beeskow Castle was first mentioned in the town's records in 1272. At that time it was owned by the noblemen of Strehle, the rulers of the Beeskow-Storkow district. Together with castles at Lieberose, Friedland and Storkow and a number of smaller fortresses, it formed part of a strong network of moated castles. After several changes in ownership, the castle and its lands were taken over in 1575 by the House of Hohenzollern, until it was acquired by the town of Beeskow in 1915.
Top of page
Map of Germany
Map showing all of Germany's TOP travel destinations...
Click here!
Search in surrounding area