Nature & greenery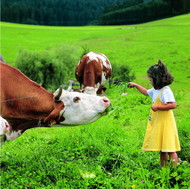 The Northern Black Forest has far more to offer than just cuckoo clocks, ham and
Bollenhüte
, the distinctive traditional hats with large red pom-poms. Blessed with delightful destinations for days out and wonderful areas for walking, the region is at its most attractive in autumn when mists hang over the valleys. The Black Forest Spa Route offers an astonishing mix of scenery, nature and spa resorts. Take the whole family out into the fresh air along to the barefoot park in Dornstetten in the heart of the countryside. The Black Forest nature reserve on the other hand, is unbeatable for stretching your legs in the great outdoors or indulging in your favourite sport.
Black Forest Spa Route
The Black Forest Spa Route is a fascinating circular route around 270 kilometres in length. It passes through the idyllic hills and valleys of the Northern Black Forest at the confluence of the Nagold and Enz rivers, between the "gold town" of Pforzheim and Mount Kniebis, a plateau almost 1,000 metres high. An unparalleled number of spa resorts line its route, many of which use the hot or mineral springs in these valleys for a variety of therapeutic treatments. There are hydrotherapy resorts, climatic resorts, thermal resorts and mineral resorts, as well as a large choice of leisure activities with something for everyone – from walking, cycling, golf, climbing, paragliding and fishing to a wide range of winter sports.
Dornstetten Barefoot Park
Feel nature with your feet. This 2.5km barefoot trail is full of tingling, tickling textures to thrill the soles of your feet. A variety of different ground coverings, including wood, pebbles, bark mulch, grass and clay are great fun and a sensory experience. Children will love the giant stilts and balancing feet in the water play area, and they can also leap around to their hearts desire on the "Earth trampoline" and put their agility to the test on the "Matterhorn" climbing rocks. This park is simply bursting with all kinds of tactile textures to stimulate and invigorate your feet.
North/Central Black Forest nature reserve
The North/Central Black Forest nature reserve is a paradise for walkers, downhill skiers and cross-country skiers. Canoeists, mountain bikers and relaxation-seekers are also in their element here. Alongside its unparalleled landscape, the reserve is also popular for its eclectic range of attractions and wellness facilities. Abbeys from which the first Black Forest settlements originated, palaces and castles that now provide historical venues for festivals and concerts, and an array of museums bear witness to the long history of culture in the Black Forest. The spa tradition here is well established, and can be partly traced back to Roman times. Autumn is the best time to appreciate the magical splendour of this highland region – mists hang over the Rhineland plain like cotton wool and when the sun is shining, you can see as far as the Alps from the Black Forest hills.
Top of page
Map of Germany
Map showing all of Germany's TOP travel destinations...
Click here!
Search in surrounding area