Medical facilities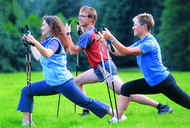 The mild climate of the Black Forest provides optimum conditions for starting a therapeutic programme of relaxation or recovery. People with a history of illness benefit most from the clear, pure air and low levels of thermal pollution. The health treatment facilities here assist in the recuperation process, with complementary spa therapies and treatments that include exercise therapy, physiotherapy and healing exercises, massages, health lectures in the Black Forest Medical Resort and an extensive network of fresh air and exercise trails that cater for all abilities. The region is also home to an internationally renowned private clinic for internal medicine and naturopathic treatment that boasts a team of experienced specialists and trained staff.
Black Forest Private Clinic in Obertal
Specialist centre for internal medicine, environmental medicine and naturopathic treatment. Not only is this a place to get treatment for illnesses, but it is also ideal for recharging your batteries. Facilities are available for respiratory diseases, lung conditions, cardiovascular and circulatory diseases, internal conditions, naturopathic treatments, psychological and psychosomatic illnesses, musculo-skeletal disorders and orthopaedics.
Top of page
Map of Germany
Map showing all of Germany's TOP travel destinations...
Click here!
Search in surrounding area