Suggested excursions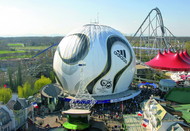 The Northern Black Forest is a haven for walkers, cyclists, families and relaxation-seekers, as well as a great base for days out. Anyone holidaying with children should plan a visit to the Clock Park between Triberg and Hornberg. The Europa-Park Rust is also great fun for all ages, while the Northern Black Forest Monasteries Route reawakens the magic of times long past, bringing to life the centuries-old history of abbeys in the region.
Europa-Park Rust
A world of fantasy just waiting to be discovered. From a whistle-stop tour through Greek antiquity on the Poseidon water rollercoaster or a white-knuckle ride on the Silver Star with a new top speed of around 130 km/h, to an expedition to the land of the dinosaurs, the Europa-Park Rust theme park offers an unforgettable experience for all ages.
Clock Park
In the Clock Park, experience unique Black Forest craftsmanship and find out how cuckoo clocks really work. The park is also home to the largest cuckoo clock in the world. Listed in the Guiness Book of Records, its giant pendulum swings back and forth like....well...just like clockwork. Meanwhile, an interconnecting series of cogs with diameters of up to 2.6 metres ensure that the cuckoo knows exactly when its time to pop out. The clockwork mechanism weighs around 6 tonnes, the pendulum is 8 metres long and the cuckoo is 4.5 metres long with a weight of around 150kg. In time-honoured Black Forest tradition, grandfather clocks are also manufactured in the park's own workshop. A range of unique and exquisite souvenirs are also available for you to buy.
Northern Black Forest Monasteries Route
The Monasteries Route runs for approximately 104 kilometres through the enchanting northern Black Forest from Alpirsbach to Maulbronn, offering a fascinating glimpse into the world of eminent monasteries. Around 850 years ago Cistercian monks built Maulbronn Monastery in the secluded valley of the Salzach River in the Northern Black Forest. This unique cultivated landscape with reservoirs, vineyards and quarries captivates visitors from all over the world with attractions that have been recognised as world heritage sites by UNESCO. Hirsau's St. Peter and St. Paul Benedictine abbey on the northern edge of the Black Forest is regarded as the of the German reform movement, while Alpirsbach Monastery, located just north of Freudenstadt, is an exquisite example of Cluniac reform architecture.
Top of page
Map of Germany
Map showing all of Germany's TOP travel destinations...
Click here!
Search in surrounding area