Places of interest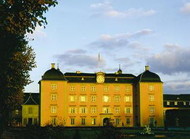 The enchanting town of Schwetzingen, situated right on the Castles Route and the Baden Asparagus Route, has two main attractions, namely Schwetzingen asparagus and the fabulous palace with its extensive gardens. On the market square, this "royal vegetable" is honoured with a bronze statue of a lady selling asparagus, and it goes without saying that there are also real people selling delectable Schwetzingen asparagus!
Schwetzingen Palace and gardens
With a reputation that stretches far and wide, the palace gardens form the heart and soul of the former electoral summer residence. These extensive gardens are dotted with features such as fountains, pavilions and sculptures. Thanks to the superb general condition of the palace and its fabulous gardens, it has been put forward as a potential UNESCO World Cultural Heritage Site.
Church of St. Pancras
Destroyed in the Thirty Years' War, this church was rebuilt in the 18th century on its old foundations, making it the oldest place of worship in Schwetzingen. The early classical façade is based on the work of French architect Nicolas de Pigage, while some parts of the church's interior still date back to the 18th century.
Grave of Johann Peter Hebel
The renowned Alemannic folk poet and educationalist Johann Peter Hebel died in 1826, and his gravestone still remains in its original site.
Top of page
Map of Germany
Map showing all of Germany's TOP travel destinations...
Click here!
Search in surrounding area