Events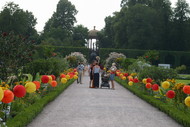 There is so much to see and do in Schwetzingen, and the quaint little town has a particularly strong musical tradition. People come from far and wide to the Schwetzingen Palace Festival, the festival of lights as well as the Mozart festival that honours the great composer. Schwetzingen is a gold mine for anyone with a taste for asparagus. This is particularly true on "Asparagus Saturday", a red-letter day for fans of this ivory-coloured delicacy.
Festival of lights in the palace gardens
Every two years the traditional festival of lights takes place in Schwetzingen Palace gardens. Thousands of Chinese lanterns dotted around the park and a grandiose firework display provide the backdrop for this glittering event. A vibrant and varied programme of music is spread across a number of stages, while the orangery square hosts children's events, including a kids' circus, face-painting and a whole host of things to delight younger guests. Food and drink is taken care of by Schwetzingen's cafés and restaurants. The festival of lights – a real treat for the whole family.
Mozart festival staged by Schwetzingen's Mozart Society
Every August the Mozart Festival takes place on three consecutive weekends. Along with the Palace festival, it ranks as one of the cultural highpoints in Schwetzingen. The rococo theatre and the concert halls provide the setting for this festival, which has been running for a quarter of a century now – a great tribute to the Salzburg-born composer.
Asparagus Saturday
Once a year during the asparagus season Schwetzingen devotes an entire day to the "royal vegetable". On "Asparagus Saturday" a plethora of food stalls tempt you with asparagus-based delicacies, while dancing and music keep you entertained. The day just wouldn't be the same without its asparagus peeling competition, and every year the programme includes the crowning of the asparagus king.
Top of page
Map of Germany
Map showing all of Germany's TOP travel destinations...
Click here!
Search in surrounding area