Suggested excursions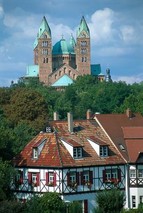 The number of interesting towns and cities near to Schwetzingen make it a perfect base for getting out and discovering the surrounding area. Heidelberg Castle and Speyer Cathedral are just two of the many sights found in the region surrounding the "asparagus town". Schwetzingen is on the German Castle Route, and exploring at least some of this trail is thoroughly recommended.
Heidelberg
The romantic town on the Neckar river is worth a visit at any time of year. Perched high above the picturesque old quarter are the ruins of Heidelberg Castle, well known even outside Germany. Abounding with cafés, shops and restaurants, the main shopping street in Heidelberg is regarded as one of the most attractive in Europe.
Speyer
Visitors from around the world flock to Speyer to see the imperial cathedral, which has been listed as a UNESCO World Heritage Site. Also of great interest is the Old Gate, one of the tallest and most important town gates in Germany. The ruins of Speyer Synagogue, one of the oldest visible remains of a synagogue in central Europe, are found in the Jewish quarter.
The Castle Road
Fully signposted and running for around 1,000 km from Mannheim to Prague, the route offers plenty of diversity, historical sites and delightful scenery peppered with romantic castles and fairytale palaces. Still very much in evidence today, the glorious past has left its imprint on many towns and villages along the route. The scenery along the route is as fascinating and awe-inspiring as the region's history.
Top of page
Map of Germany
Map showing all of Germany's TOP travel destinations...
Click here!
Search in surrounding area