Places of interest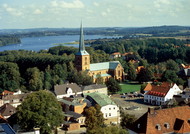 Famous as the venue of the Karl May Festival, Bad Segeberg is also known for its imposing Kalkberg hill and the late-Romanesque Church of St. Mary. As a state-approved health resort, it has an excellent spa infrastructure and a number of places where visitors can relax such as the spa gardens around Great Segeberg Lake .
Kalkberg hill
At 91 metres high, Kalkberg hill is the town's main landmark as well as the venue of the famous Bad Segeberg festival. Emperor Lothar III had a castle known as the Siegesburg (victory castle) built on top of the hill in 1134. This was completely destroyed during the Thirty Years' War. The oldest remnant from the town's 850-year history is the Segeberg burghers' house (Alt-Segeberger Bürgerhaus), which now contains the local history museum.
Church of St. Mary
With its amazing brick vaults, the late-Romanesque Church of St. Mary is one of the most delightful buildings in the whole of northern Germany. The church's exquisite Renaissance altar dating from the 16th century, the pulpit dating from 1612 and the font are all considered beautiful examples of religious art.
Spa gardens, Great Segeberg Lake
The town of Bad Segeberg owes its title of "spa resort" to the high-grade salt water springs that were discovered under Kalkberg hill by miners in the middle of the 19th century. Today, the spa gardens are a great place, not only for invigorating walks for spa visitors, but also for anyone wishing to relax by the beautiful lake after taking a tour of the town.
Top of page
Map of Germany
Map showing all of Germany's TOP travel destinations...
Click here!
Search in surrounding area