Nature & greenery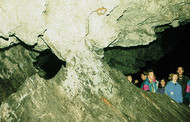 The chalk mines underneath Bad Segeberg's famous landmark, Kalkberg hill, are the largest winter quarters in northern and central Europe for a variety of different bats. Eekholt wildlife park (30km) is a zoo dedicated to native animals as well as a place of learning and an animal hospital. Situated 20km from the town, Trappenkamp adventure forest offers discovery tours for people of all ages.
Chalk mines
Since their discovery in 1913, the chalk mines underneath Bad Segeberg have been a popular visitor attraction. Every year, more than 15,000 bats of various species come to spend the winter in this underground cave system. This stunning natural attraction is also home to a variety of fascinating insects, snails and plants. The adjoining visitors' centre provides information about all of these cave-dwellers.
Eekholt wildlife park, Grossenaspe
Eekholt wildlife park in Grossenaspe covers an area of 65 hectares and has more than 700 animals from over 100 native species in enclosures that closely resemble their natural habitats. As well as allowing visitors to get up close to nature, the wildlife park also offers an educational programme that highlights the beauty of the region's countryside and its need for protection. The wildlife park also has a hospital where injured animals are treated before being released back into the wild.
Trappenkamp adventure forest
Just 19km from Bad Segeberg, Trappenkamp adventure forest is also Schleswig-Holstein's forestry education centre. It runs a special educational programme for groups of children and young people as well as a lively programme of activities for adults under the motto "Play, Learn, Experience and Understand".
Top of page
Map of Germany
Map showing all of Germany's TOP travel destinations...
Click here!
Search in surrounding area