Permanent exhibitions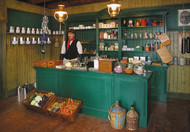 Bad Segeberg is renowned for its Karl May Festival. The "Indian Village", which has been rebuilt following a fire, is a proper little Western town where you can experience the Wild West up close. With a barber's shop, drugstore, general store, sheriff's office, saloons, bars, the exhibition at the Nebraska House and much more besides, it takes visitors on an exciting journey back in time to the America of the 1880s for the duration of the festival.
Nebraska House
Nebraska House has a permanent exhibition on the "World of American Indians". Here, visitors can immerse themselves in the culture and history of the Native Americans. In addition to a collection of original exhibits and documents depicting the deplorable oppression of the American Indians, the museum also portrays various scenes from everyday Native American life.
Barber's shop und general store
The barber's shop also houses a drugstore. As was customary in those days, the barber's seats, with original barber's tools, are located right next to the pharmacy. In the general store you can see a whole variety of everyday objects that were essential to life in the Wild West: food, tools, fabrics and, of course, weapons.
Permanent exhibition in the log cabin
The permanent exhibition in the log cabin documents the history of the Karl May Festival stretching back over more than 50 years. The exhibition includes the most beautiful posters and genuine props from past productions.
Top of page
Map of Germany
Map showing all of Germany's TOP travel destinations...
Click here!
Search in surrounding area