Other highlights
Contact

World heritage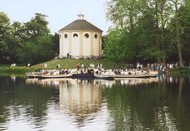 In Saxony-Anhalt scenery, culture and history meld together to form a stunning combination. Its palaces, churches and parks are examples of superior architectural skills. The remarkable landscape gardens of the Garden Kingdom of Dessau-Wörlitz, the medieval town of Quedlinburg, the largest preservation area in Germany, and the fascinating Bauhaus "master houses" in Dessau are all listed UNESCO World Heritage sites.
Henry the Fowler, Duke of Saxony was crowned the first king of Germany in the year 919. His imperial seat with over 1,200 half-timbered buildings forms an extremely well preserved medieval town. The oldest house in the medieval town of Quedlinburg was only discovered towards the end of 2003 and dates back to 1220.
Under Prince Leopold Friedrich Franz Anhalt-Dessau was a centre of the Enlightenment. The prince sought a means of expressing his reforming ideas and found it in the Wörlitz landscape gardens built between 1764 and 1800. The canals, grottoes and sculptures do not simply look nice, they have meaning. In the Garden Kingdom of Dessau-Wörlitz early Classical and neo-Gothic architecture blends seamlessly with English-style landscape garden design.
The Bauhaus school in Weimar, founded in 1919 by Walter Gropius, was Germany's most famous classical modernist art and design institute. Bauhaus works created between 1919 and 1933 have influenced world appreciation of architecture and design. The Bauhaus building in Dessau was built in 1925-6 to plans by Walter Gropius, following expulsion from the school's original location in Weimar. The masters of modernism lived and worked in "master houses" which were built as artists' studios. The rooms of the houses occupied by Wassily Kandinsky and Paul Klee have been faithfully restored to their original condition using more than 170 shades of colour.
Top of page
Map of Germany
Map showing all of Germany's TOP travel destinations...
Click here!
Highlights in brief
Magdeburg
State capital, cathedral
Dessau
Bauhaus UNESCO world heritage site
Halle
Town of art on the river Saale, zoo
Quedlinburg
Timbered-framed houses, UNESCO world heritage site, wood worm museum Wittenberg
Luther associations, Melanchthon's house, UNESCO world heritage, castle
Wörlitz
UNESCO world heritage site, landscaped gardens
Naumburg
Cathedral town
Sangerhausen
Rose town, Europarosarium rose gardens
Bad Kösen
spa town, saline spring, Käthe Kruse doll manufacture, Rudelsburg castle
Freyburg
Rotkäppchen sekt