Other highlights
Contact

Cities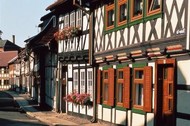 Saxony-Anhalt's towns and cities are always worth a visit for their impressive architecture and their historical significance. There really are few other places that offer a similar variety of historical tourist attractions in such a small area, including pre-historical, medieval, Reformation and Enlightenment sites, as well as those relating to the ages of industrialisation and classical modernism. Its cathedrals and the towns associated with Martin Luther are treasure troves for cultural, educational and sightseeing tours, perfectly combining learning and leisure.
Magdeburg, the state capital and a leafy town with 20 or so parks and gardens, has lots to offer its visitors. Foremost among the town's historical buildings that have given rise to the sobriquet "pearl of the Romanesque" are the Monastery of Our Lady and Magdeburg cathedral, its most famous landmark. The Elbe and its broad riverbank meadows frame the townscape.
In Germany's industrial heyday towards the end of the 19th century, prosperous residential districts grew up around Germany's towns and cities. Most of these succumbed to the ravages of war and modernisation, but this was not the case in Halle. No other town in Germany even comes close to possessing such a dense, intact urban structure of bourgeois buildings for commercial, office and residential use.
The colourful Harz town of Wernigerode has just celebrated its 775th anniversary. Splendid half-timbered buildings have survived through much of this time, with the oldest dating back to 1400. They include the "Smallest House", now a museum, the "Crooked House" and most importantly, the town hall. Wernigerode Castle with views of the Brocken mountain towers over the old town.
A host of architectural monuments testify to the former glory and rich history of Merseburg as a seat of royalty and government. The remarkably complex, multi-turreted architecture of the cathedral and castle ensemble dominates the town above the river Saale.
Top of page
Map of Germany
Map showing all of Germany's TOP travel destinations...
Click here!
Highlights in brief
Magdeburg
State capital, cathedral
Dessau
Bauhaus UNESCO world heritage site
Halle
Town of art on the river Saale, zoo
Quedlinburg
Timbered-framed houses, UNESCO world heritage site, wood worm museum Wittenberg
Luther associations, Melanchthon's house, UNESCO world heritage, castle
Wörlitz
UNESCO world heritage site, landscaped gardens
Naumburg
Cathedral town
Sangerhausen
Rose town, Europarosarium rose gardens
Bad Kösen
spa town, saline spring, Käthe Kruse doll manufacture, Rudelsburg castle
Freyburg
Rotkäppchen sekt