Other highlights
Contact

Regions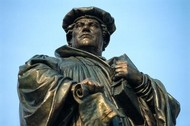 Salzwedel, Stendal and Havelberg are traditional small towns set in the striking, unspoilt countryside of the Altmark region. Here visitors can explore the Elbe's riverside meadows, the Havel basin, Drömling nature reserve and the Altmärkische Wische conservation area, Colbitz-Letzling Heath and the Kalbesche Werder area on 18 nature trails totalling more than 80 kilometres.
The Saale-Unstrut region in southern Saxony-Anhalt is named after the two rivers at its heart. Its beautiful landscape holds remarkable archaeological treasures. Saale-Unstrut, where Faust once caroused with the devil, is somewhere to relax, enjoy life, discover outstanding cultural monuments and generally explore. Slopes carpeted with orchids, sheer chalky crags, gently rolling riverbank meadows, orchards and lush green terraced vineyards dotted with quaint cottages are the hallmarks of this region. It is a traditional wine growing region, where 1,500 hours of sunshine a year warm the grapes, easily giving one the impression of being in Tuscany.
Düben Heath is the largest single expanse of forest on the Central German Plain. Once entirely wooded, the landscape is now diverse, distinct and varied. The part of the area which forms the Düben Heath nature reserve is restful and quiet, with magnificent pine and mixed forests, hidden waterways and a myriad of flora and fauna. The other part comprises the Düben Heath lakes, where the legacy of centuries of mining followed by land regeneration have created numerous picturesque lakes used for watersports, recreation and waterside activities.
Anhalt-Wittenberg is a long-established holiday region, the most easterly in Saxony-Anhalt. Always a home for ideas and inspiration, this area was the setting for several historical events, for instance when Martin Luther shook the Christian world by nailing his 95 theses to the door of the Castle Church in Wittenberg, or when Johann Sebastian Bach composed his Brandenburg Concertos in Kösen. Or the Garden Kingdom of Dessau-Wörlitz, where Prince Franz of Saxony-Anhalt transformed his whole principality into a garden during the Enlightenment. Or the Bauhaus in Dessau, where avant garde artists influenced 20th century art with their revolutionary ideas.
Top of page
Map of Germany
Map showing all of Germany's TOP travel destinations...
Click here!
Highlights in brief
Magdeburg
State capital, cathedral
Dessau
Bauhaus UNESCO world heritage site
Halle
Town of art on the river Saale, zoo
Quedlinburg
Timbered-framed houses, UNESCO world heritage site, wood worm museum Wittenberg
Luther associations, Melanchthon's house, UNESCO world heritage, castle
Wörlitz
UNESCO world heritage site, landscaped gardens
Naumburg
Cathedral town
Sangerhausen
Rose town, Europarosarium rose gardens
Bad Kösen
spa town, saline spring, Käthe Kruse doll manufacture, Rudelsburg castle
Freyburg
Rotkäppchen sekt