Other highlights
Contact

Regional specialities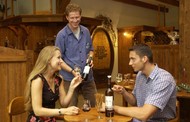 Harz brook trout is a popular dish. Its most delicious version is Harz-style trout with juniper, coriander and cognac. If this is not to your taste, try a freshly-caught whitefish from Lake Arendsee. The taste of its firm flesh will linger in your memory.
Vines are cultivated on more than 600 hectares in Saxony-Anhalt. Red and white wine has been produced in the Saale-Unstrut region since the year 998 and the main grape variety grown is Müller-Thurgau.
The tradition of baking the Salzwedel "tree cake" on a spit before an open fire goes back to at least 1682. This delicious cake is made in layers on a horizontal wooden roller which is slowly turned over an open fire.
Top of page
Map of Germany
Map showing all of Germany's TOP travel destinations...
Click here!
Highlights in brief
Magdeburg
State capital, cathedral
Dessau
Bauhaus UNESCO world heritage site
Halle
Town of art on the river Saale, zoo
Quedlinburg
Timbered-framed houses, UNESCO world heritage site, wood worm museum Wittenberg
Luther associations, Melanchthon's house, UNESCO world heritage, castle
Wörlitz
UNESCO world heritage site, landscaped gardens
Naumburg
Cathedral town
Sangerhausen
Rose town, Europarosarium rose gardens
Bad Kösen
spa town, saline spring, Käthe Kruse doll manufacture, Rudelsburg castle
Freyburg
Rotkäppchen sekt