Other highlights
Contact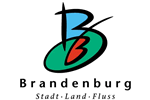 Cities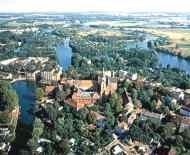 In the last 300 years, the garrison town of Potsdam has become one of Europe's most magnificent royal cities. Frederick II, the king of Prussia, along with his predecessors and descendants, commissioned countless baroque buildings in and around Potsdam, as well as 17 stately homes and palaces set in lush parkland. Nowadays, visitors are attracted to Brandenburg's regional capital by the Potsdam biosphere, Bornstedt Crown Estate and Babelsberg film park, as well as its palaces and parks.
The state of Brandenburg was named after the town of Brandenburg an der Havel which is notable in several respects, for being the oldest town in the state and for its remarkable setting, surrounded by the rivers and lakes of the Havel region. Its three historical districts, the old town, the new town and the cathedral district, contain a wealth of architectural monuments, not to mention its churches, town hall and the gates and towers of its town walls.
Located at the junction of major European trading routes, Frankfurt an der Oder has had a colourful history. The town boasts one of the largest north German brick Gothic hall churches and one of the oldest medieval town halls in North Germany with magnificent gables dating from the 14th and 15th centuries. The 18th century German novelist and playwright, Heinrich von Kleist is the town's most famous son.
Cottbus is the second largest town in Brandenburg and the urban centre of the Spree Forest. It was the heart of the former East Germany's coal mining and energy production industries, but its roots go back to the 12th century. Branitz Park, a notable 19th century park created by the Prince of Pückler-Muskau, is to be found here. The historical old quarter of Cottbus contains a lovingly reconstructed market square and magnificent town houses with baroque gabled fronts plus the State Theatre with its lovely art nouveau facade.
Top of page
Map of Germany
Map showing all of Germany's TOP travel destinations...
Click here!
Highlights in brief
Potsdam


Palaces and parks, UNESCO World Cultural Heritage
Werder (Havel)
Tree blossom town with historical centre
Rheinsberg
Rheinsberg Palace and Kurt Tucholsky memorial
Cistercian Abbey at Chorin
Bad Saarow
Health resort with thermal baths
Neuzelle
Cistercian Abbey
Tropical Islands resort
Lübbenau
Spree Forest harbour
International Construction Exhibition "Fürst Pückler Land"
Fläming Skate track