Other highlights
Contact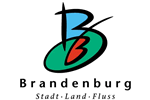 Regional specialities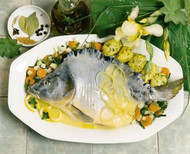 Brandenburg boasts a wealth of regional dishes. Spree Forest pickled gherkins are well known, but asparagus from Beelitz, Teltow turnips,
Plinsen
(a type of pancake), potatoes boiled in their skins with cream cheese and fish dishes such as Havel pike-perch are also mouth watering.
Pickled gherkins
The Spree Forest is also known as Germany's vegetable store and pickled gherkins are its most famous product. These small, green cucumbers pickled in vinegar, some flavoured with spices, pepper, garlic or mustard are extremely popular with visitors and Spree Forest locals alike.
Teltow turnips
Teltow turnips are a spicy variety of the white turnip and were originally cultivated in the Brandenburg Marches, especially around the town of Teltow (south-west of Berlin); hence the name. These small root vegetables form part of many Brandenburg and Berlin regional specialities and were quickly adopted in international cuisine.
Brawn with fried potatoes
Brawn is a typical Brandenburg and Spree Forest dish. It mainly consists of chopped pork knuckle (without the bones) and diced pickled gherkin. It tastes best with potatoes fried with plenty of onions and bacon. Some people season the brawn with a few drops of vinegar, others eat it with mustard or horseradish. Beer is the best drink to accompany it.
Havel pike-perch
With 3,000 lakes and more than 30,000 kilometres of waterways, it's not surprising that fish is one of Brandenburg's top specialities and pike-perch from the river Havel is everyone's favourite. It is served in a variety of ways, such as Havel pike-perch in a dill crust with stewed cucumber and bread and lentil dumplings.
Top of page
Map of Germany
Map showing all of Germany's TOP travel destinations...
Click here!
Highlights in brief
Potsdam


Palaces and parks, UNESCO World Cultural Heritage
Werder (Havel)
Tree blossom town with historical centre
Rheinsberg
Rheinsberg Palace and Kurt Tucholsky memorial
Cistercian Abbey at Chorin
Bad Saarow
Health resort with thermal baths
Neuzelle
Cistercian Abbey
Tropical Islands resort
Lübbenau
Spree Forest harbour
International Construction Exhibition "Fürst Pückler Land"
Fläming Skate track