Health Resorts & Spas in Germany
top
Places of interest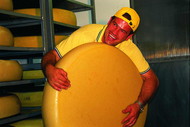 Situated in one of the most beautiful health and recreation areas in the Allgäu, Bad Wurzach is a small spa resort, the oldest mud spa and the newest thermal spa in Baden-Württemberg. At the Vitalium health centre, the therapeutic water wells up from deep below the earth. The Alpaca park is a popular attraction for the whole family. Alternatively, you can watch an expert cheese maker at work at the cheese dairy.
Vitalium
The Vitalium is
the
place to go for a spot of pampering. In addition to the thermal waters and a beautiful sauna area with various facilities including a jacuzzi and spa, you can enjoy an Arabian Nights-style experience. Try a moisturising Cleopatra, Rasul, evening primrose oil or orange blossom bath offering relaxation for the mind, body and soul. There are also extensive fitness facilities.
Alpaca Park
This remarkable animal paradise in the Rohrsee nature conservation area in Upper Swabia blends harmoniously into the surrounding countryside. Covering an area of 120,000m², the open-air park has alpaca, camels, llamas, Arabian horses and ponies, Tibetan yaks, emus, peacocks, donkeys, sheep, goats, cats, many different species of dog, and a large number of waterfowl and exotic fowl living side by side. The guided tours, pony and donkey rides, and pets corner are all very popular with visitors.
Cheese dairy
Set up as a co-operative by local farmers in 1902, the village Alpine dairy has been a family-owned concern since 1936. Based on many years of experience and recipes handed down through the generations, it produces raw milk cheeses, Emmental, Bergkäse (mountain cheese), Bierkäse (beer cheese), Rotweinkäse (red wine cheese) and Bad Wurzach Moorkäse (moor cheese). The whole process from the supply of the raw milk by local farmers through to putting the milk in rennet and pouring it into the cheese moulds is clearly explained. On a guided tour visitors can also find out why the cheese is given a salt bath or what happens in the maturing cellar.
Top of page
Map of Germany
Map showing all of Germany's TOP travel destinations...
Click here!
Search in surrounding area