Health Resorts & Spas in Germany
top
Events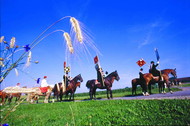 Bad Wurzach is not just renowned for its idyllic location, beneficial mud and hot springs; visitors can also enjoy a varied selection of entertaining events. A sense of adventure is required for the torch-lit walk through the
Wurzacher Ried
. Bad Wurzach's
Blutritt
is the second-largest procession of riders in Central Europe. Bad Wurzach's town festival presents live music ranging from jazz to rock, fanfare and shawm processions, and dance shows from near and far.
Mystical torch-lit walk through the Wurzacher Ried
Every February, the Nature Conservation Centre and the tourist information centre organise the eerily beautiful torch-lit walk through the wintery
Wurzacher Ried
. You must book your place on the torch-lit walk in advance at the tourist information office.
Holy Blood Festival
Held every year in July/August, the old-established Holy Blood Festival attracts approximately 1,700 riders and more than 12,000 pilgrims and visitors. The event is centred around the worship of a Holy Blood relic once privately owned by Pope Innocent XII who gave it to a German on a pilgrimage to Rome in 1693. All of the horses are beautifully decorated and the riders festively dressed. The traditional religious festival begins at 7am with the procession.
Bad Wurzach town festival
Held every August, this is one of the largest town festivals in the region. It offers a variety of activities on several stages as well as culinary delights served at atmospheric and creatively designed stalls. Other highlights include a fashion show and the big town race. This wonderful street festival is rounded off with a flea market and a children's bouncy castle and amusement park.
Top of page
Map of Germany
Map showing all of Germany's TOP travel destinations...
Click here!
Search in surrounding area