Health Resorts & Spas in Germany
top
Art & culture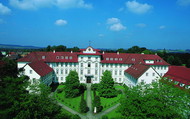 The history of Upper Swabia explains why this region has so many great art treasures covering all the different periods as well as a few little-known gems. One of the special highlights on offer is the series of concerts at Wurzach Palace. To this day, Gottesberg hill remains a traditional place of pilgrimage. The Maria Rosengarten abbey has the "most beautiful private chapel in the world".
Bad Wurzach Palace
The town's signature attraction, Wurzach Palace is a gem of baroque architecture. It was built in 1723-28 by Count Ernst Jakob for the Waldburg-Zeil-Wurzach family. For two hundred years, the palace was the residence of the Stewards of Waldburg-Wurzach and the centre of court music and painting. Laid out in a horseshoe shape, the well-balanced three-winged complex looks out onto the town. Inside there is a grand staircase built in the traditional Upper Swabian style. The elegantly sweeping sandstone stairs lead up to a three-way landing. The ceiling fresco depicts the Olympian gods in their heaven.
Pilgrimage church on Gottesberg hill
The baroque Church of the Holy Cross built on Gottesberg hill in Bad Wurzach in 1709 is an important historical and cultural attraction. The Holy Blood relic brought to Gottesberg hill in the 18th century is housed in the side chapel. The Holy Blood Festival that takes place here features the second-largest procession of riders and attracts thousands of pilgrims every year.
Maria Rosengarten Abbey
The Franciscan abbey was founded in 1514 by Countess Helena. Its rococo-style prayer room has been called the "most beautiful private chapel in the world". The abbey was secularised in 1896 and taken over by the Poor School Sisters of Our Lady. After 1936, the Poor School Sisters set up Bad Wurzach's first peat spa. The abbey is one of the attractions visited as part of the weekly guided tours of the town and guided art tours.
Top of page
Map of Germany
Map showing all of Germany's TOP travel destinations...
Click here!
Search in surrounding area