Health Resorts & Spas in Germany
top
Suggested excursions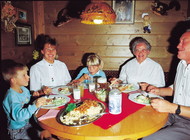 The Alpine peaks are just 50 kilometres from Bad Wurzach. Nearby Ravensburg Spieleland amusement park is a great destination for the whole family. Enjoy experimental archaeology and watch history being brought to life in the museum at Lake Federsee. The West Allgäu Cheese Route has plenty of fascinating scenery and culinary delights.
Ravensburg Spieleland amusement park
Ravensburg Spieleland takes visitors on a journey of discovery through the biggest playroom in the world. Ride on the Swabian railway, enjoy some fresh country air on a tractor ride or spin a few laps on the animal carousel. Then have some fun with the giant wooden animal puzzles. If you want to say "hello" to a real Swabian domestic pig, then pay a visit to the petting zoo. Try out your skills with some pony riding or a cow-milking competition. The park's restaurant has a fantastic family and children's menu.
Federsee Marsh Museum
Around 265 species of bird live in the area around Lake Federsee. The Federsee basin is also known for its archaeological finds including relics left behind by settlements primarily from the Neolithic and Bronze Age or Urnfield period. The Federsee Marsh Museum has a remarkable collection of original exhibits and reconstructions. See what life was like in the Stone Age: reindeer hunters and pile villages in the Federsee marshes. The Federsee Archaeology Park is a real insider's tip and
the
new place for archaeology enthusiasts.
West Allgäu Cheese Route
This 50km culinary circuit runs through the spectacular panoramic scenery of the Allgäu's alpine foothills. Hear tales of a fascinating history at the alpine dairies on every Alpine peak, enjoy the opportunity here and there to watch the cheese makers at work, or find out how the famous Emmental cheese came by its holey pattern. This is a chance to see verdant nature at its best. Explore the beautiful scenery along the route by bike or on Shank's pony.
Top of page
Map of Germany
Map showing all of Germany's TOP travel destinations...
Click here!
Search in surrounding area