Health Resorts & Spas in Germany
top
Medical facilities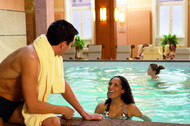 Bad Homburg made a name for itself as early as the 19th century. Today, Bad Homburg is a modern spa town where health-conscious guests come from all over the world to relax and unwind.
Dr. Baumstark Clinic
Formerly a sanatorium, this clinic has built a reputation as one of the leading specialist clinics in the spa town. Approved balneological and physiotherapeutic treatments are carried out in the state-of-the-art spa and physical therapy department. Experienced therapists guide you through the therapeutic treatment, rehabilitation or preventative cures, and help you structure your own personal health programme. Guests are accompanied every step of the way by a team of highly qualified specialists. Treatments are available for internal medical conditions, gastroenterological complaints, metabolic disorders, rheumatic diseases, conservative orthopaedics and psychovegetative syndromes.
Paul Ehrlich Clinic
This clinic enjoys a central yet quiet location opposite the expansive spa gardens, which are ideal for gentle strolls and relaxation, as well for more active recovery programmes. Facilities are available for rehabilitation and therapeutic procedures, follow-up treatments (in the fields of internal medicine, surgery, neurology and orthopaedics), oncological aftercare, hospital treatments (in the fields of surgery, gynaecology, ENT, internal medicine and urology), in-patient observation, clinical examinations and pain therapy.
Wicker Clinic
For almost 30 years now, this clinic has been treating illnesses and painful disorders associated with the supporting apparatus and locomotor system as well as internal diseases, specialising in metabolic, stomach and intestinal complaints. In addition, neurological diseases and post-neurosurgical conditions are also treated. The wide range of diagnostic and therapeutic facilities, together with the broad spectrum of illnesses and diseases covered, ensure that the experienced and qualified team can offer a holistic approach to your treatment. Facilities are available for internal medical conditions, rheumatology and physical therapy.
Top of page
Map of Germany
Map showing all of Germany's TOP travel destinations...
Click here!
Search in surrounding area