Suggested excursions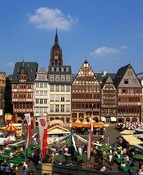 The abundance of sights and attractions in the area surrounding Bad Homburg make it an ideal base for excursions. The Taunus hills stretch for more than 75 kilometres from the area known as the Wetterau as far as the Rhine, dropping steeply down into the valleys of the Rhine and the Main. The scenery is both impressive and diverse.
Rheingau
The Rheingau is a prestigious wine-growing region, renowned for its vine-clad hillsides. It lies in an area of idyllic scenery where the Rhine leaves its south-north course between Mainz and Wiesbaden and swings round to the west until it reaches Rüdesheim. People have been making wine in the Rheingau since Roman times, and some of the finest riesling wines in the world are grown on the lush slopes of the Taunus. Alongside its exquisite wines, this small but perfectly formed region boasts panoramic views of natural scenery with gently rolling hills and steep ravines, and land that has been cultivated for centuries.
Frankfurt am Main
This city in the heart of Europe is characterised by its intriguing contrasts, where traditional architecture, culture and tranquillity sit happily alongside skyscrapers, commerce and the fast pace of city life. Frankfurt is a cosmopolitan city, an important financial centre and the venue for major international trade fairs including the International Motor Show (IAA) and the International Book Fair. The city also has a vibrant cultural scene and benefits from excellent transport connections.
Abbey and Altenmünster of Lorsch – UNESCO World Heritage Site
Lorsch Abbey lies between Darmstadt and Worms. The well-known gate hall or "king's hall" is one of Germany's most important pre-Romanesque architectural relics. Panelled with red and white stone tiles, the hall is all that remains of the abbey complex that was built in 764. A number of important members of the Carolingian dynasty were buried at the abbey. Close by is a museum centre with three distinct sections: a collection tracing the history of the abbey, an ethnological museum and a tobacco museum.
Top of page
Map of Germany
Map showing all of Germany's TOP travel destinations...
Click here!
Search in surrounding area