Art & culture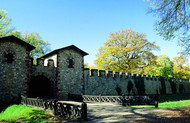 Romans, knights, kings and emperors together with forts, villas, palaces and thermal baths – it all makes for a fascinating journey through history for culture lovers. A tour along the Roman Limes, the longest cultural monument in Europe, simply oozes with history all the way from the Rhine to the Danube. In Bad Homburg's historic casino meanwhile, put it all on black, watch the roulette wheel spin, and if you're lucky, cash in your chips.
Saalburg Roman fort
In Roman times the Saalburg was a fort with a military village, protecting the Upper Germanic-Rhaetian Limes that formed the northern frontier of the Roman Empire. Situated north-west of Bad Homburg in the Taunus hills, it was erected in 90AD as a basic fort made from wood and earth, garrisoned by around 200 soldiers. By 213AD the Saalburg had been built up into an extensive complex of fortifications. In 1897 Kaiser Wilhelm II arranged for the faithful reconstruction of this complex that is the only one of its kind in the world. Saalburg Fort boasts a number of interactive tours and events, including Roman archery and lance throwing as well as a Roman clothing pageant.
The Limes, a World Cultural Heritage Site
Over 550 kilometres in length, complete with 900 sentry posts and 120 fort sites of all sizes, this UNESCO World Heritage Site is one of the most impressive archaeological monuments in central Europe. The Limes is a veritable paradise for amateur archaeologists and historians. Alongside Roman remains preserved in their original condition there are restored buildings, excavations and reconstructions. The course of the border wall can still be made out in places as it stretches in long, straight lines across forests and pastureland.
Bad Homburg Casino
Bad Homburg Casino can look back on a long and distinguished history. It was founded 150 years ago by the Blanc brothers, who invested the profits in the town's spa facilities and donated a spa centre, street lighting and a rail connection to Frankfurt. To this day it remains one of the most popular attractions in Bad Homburg.
Top of page
Map of Germany
Map showing all of Germany's TOP travel destinations...
Click here!
Search in surrounding area