Places of interest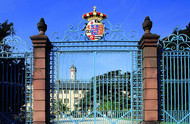 It wasn't so long ago that princes and kings from all over the world flocked to Bad Homburg to relax, recuperate and revitalise themselves. This idyllic spa resort at the foot of the Taunus hills, its "champagne air" and the exclusive surroundings of the casino and spa gardens, were lauded by none other than Kaiser Wilhelm II. Today, guests can unwind in regal luxury at the Kur Royal Day Spa in the Kaiser Wilhelm Spa. Formerly the residence of the Landgraves of Hessen-Homburg, it is among the finest baroque complexes in Germany, and rose to international fame after featuring in Heinrich von Kleist's "Prince of Homburg" play.
Spa gardens
Designed in the style of an English landscape garden, the spa gardens in Bad Homburg were created around 150 years ago by the Director General of the Royal Prussian Gardens Peter Joseph Lenné, the finest landscape gardener of his time. Covering an area of 44 hectares, these are the largest spa gardens in Germany, and the Brunnenallee, a wide avenue lined with chestnut trees, lies at their heart. Along this avenue you can find the carbonated mineral springs, the historic Kaiser Wilhelm Spa, the casino and the Siamese Temple. Largely unaltered in its design and layout, this is the last of Lenné's parks that remains almost completely in its original format.
Kaiser Wilhelm Spa
Bad Homburg's appeal as a health resort owes much to its unrivalled spa tradition. Ever since the end of the 19th century, people from all over the world have availed themselves of the beneficial and therapeutic treatments in the Kaiser Wilhelm Spa, the erstwhile royal spa. The enchanting location of the spa gardens augurs well for the revitalising range of spa treatments ahead. The lovingly detailed grandeur of the Kaiser Wilhelm Spa's architecture provides a setting that appeals to all the senses – expansive, high-ceilinged rooms, adorned with opulent tiled patterns and mosaics, radiate an atmosphere of luxurious bliss, while warm colours and exquisite fragrances provide balance and serve to complement the treatments.
Palace and palace gardens
The former residence of the Landgraves of Hessen-Homburg was built between 1680 and 1685 in place of a medieval castle. Its distinguishing feature, and Bad Homburg's landmark building, is the 14th century castle keep. Standing at 48 metres, this tower rises high above the two courtyards around which the baroque complex is clustered. In the rooms open to the public, art treasures from the 17th to the 19th century are on show. These serve to illustrate the domestic life of the Landgraves, as well as the Prussian Kings and German Kaisers who used Bad Homburg as a summer residence from 1866 to 1918. In the second half of the 18th century the palace gardens with their baroque buildings were transformed into landscaped gardens.
Top of page
Map of Germany
Map showing all of Germany's TOP travel destinations...
Click here!
Search in surrounding area