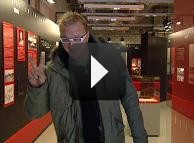 Frankfurt's shopping is as varied as its cityscape. The skyscraper-dominated skyline contrasts with historical Römerberg square by the town hall, while the nearby Braubachstrasse is popular with lovers of art and antiques. The town centre and the neighbouring shopping streets are all within walking distance.
An international city you can explore on foot
The shopping boulevard of "Zeil" is characterised by its huge department stores, selling a stunning array of international brand goods, cosmetics and fashions under one roof. Nestling between are boutiques, jewellery shops, shoe stores and electronics emporiums. Goethestrasse is lined with international designer-label shops, and Kleine Bockenheimerstrasse is affectionately known as the "Fressgass" (literally: "Glutton Lane"), because of its long-established delicatessens.