Nature & greenery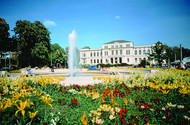 Fun, recreation and nature at its best: all this and more in the numerous parks and green spaces at the heart of Frankfurt. Sports lovers will enjoy cycling or skating along the Nidda or Main rivers, or on one of the circular routes in the Stadtwald woods. Frankfurt's Palmengarten botanical gardens are a lush oasis with a range of plants from virtually every climate zone in the world. With its exotarium and nocturnal animal house, the zoo is among the best in Europe.
The Palmengarten botanical gardens
The collection of tropical plants forms the backbone of the Palmengarten's collection and the palm house - a construction of glass and iron through which visitors can stroll as if in a tropical jungle - was built especially to house it. There are also exhibitions on various themes.
Frankfurt Zoo
Founded in 1858, Frankfurt's Zoological Garden is one of the world's oldest zoos. The 13 hectare site has 4,500 animals representing 600 species. Grzimek House is particularly impressive: here, day is turned into night so that visitors can observe nocturnal animals. The bird halls are the only ones of their kind in Europe. The "free flight" hall is particularly worth a visit.
Von Bethmann Park
Shielded from the city traffic by its thick walls, this oasis of peace and tranquillity was once a garden belonging to the Bethmann banking family. Bethmann Park is a riot of colourful blooms and creative flower beds. The jewel in its crown is the Chinese Garden, laid out in accordance with the principles of feng-shui. Bethmann Park also has an advice centre where visitors can find out about plant diseases and seek planting tips and advice on caring for plants.
Top of page
Map of Germany
Map showing all of Germany's TOP travel destinations...
Click here!
Search in surrounding area