Places of interest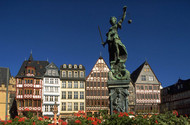 Goethe House, birthplace of Johann Wolfgang von Goethe, provides a fascinating insight into upper-middle class life in the mid-18th century. Of all Frankfurt's buildings, St. Paul's Church has perhaps played the greatest historical role: this is where Germany's first freely elected parliament met in 1848. Römerberg square and the old town hall, known as the "Römer", are the very heart of the old quarter.
Impressive banking district
The best view of Germany's foremost financial centre and its unique skyline can be gained from the banks of the river Main. The viewing platform 200 metres up the Maintower affords great views over the city and the river Main as far as the Taunus hills. There are also restaurants and bars at lofty heights.
Römerberg square and "Römer" town hall
The old city centre with its magnificent half-timbered buildings was rebuilt in 1986 based on historical plans. Frankfurt's first bank was established in the 17th century in a building on the corner of Römerberg square, known as the "Grosser Engel" (Great Angel). Three former patrician town houses dating back to the 14th century form the striking Gothic triple-gabled facade of the
Römer
town hall - Frankfurt's famous landmark. The historical town hall is still the Frankfurt mayoral residence.
St. Paul's Church
St. Paul's Church built between 1789 and 1833, is the original national symbol for freedom and democracy in Germany. In 1848 the church was the seat of the first German national assembly, whose proposals formed the basis of Germany's present constitution, the
Grundgesetz
. Since its reconstruction after the second world war, St. Paul's is no longer used as a church, but concentrates on its role as the "cradle of German democracy". It hosts prize ceremonies and various other political and cultural events.
Top of page
Map of Germany
Map showing all of Germany's TOP travel destinations...
Click here!
Search in surrounding area