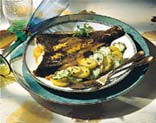 Fish is best eaten in the region it comes from: on the coasts of Germany as well as near the many unpolluted rivers and lakes inland. Although it is true that a Marwaller fish in a Riesling stock from the Eifel (a mountain region bordering France) will also be tasty in Greifswald (an inland town), just as jellied eel will be succulent in Koblenz on the Rhine, eating them there lacks a certain sense of style.
A stroll through the traditional fish market in
Hamburg
-Altona with its cheeky merchants will make you want to try the products of the region.
You might fancy some fish in a bread roll, Finkenwerder plaice, lobscouse with rollmops (a type of pickled herring) or Hamburg eel soup with dried fruit in ham stock.
The coast
means smoked Kiel sprats with scrambled eggs on the Baltic Sea and Helgoland lobster soup on the North Sea. It also means Mecklenburg eel soup and Holstein mussel soup. You will find plaice with bacon and shrimps far inland, and young matjes herring with onions and mild cream sauce is served even in the Alps.