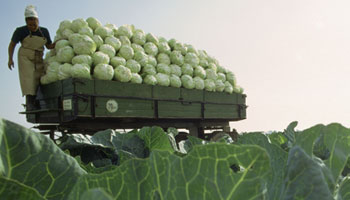 Top chefs insist on fresh, locally produced ingredients. Germany's many different regions supply a great variety of fruits, vegetables, organic fish and meat. They guarantee high quality standards and plenty of culinary choices.Meat and fish: from organic beef to whitefish from Lake Constance

Regional meat and dairy products are fundamental to German cuisine. More and more German meat is being produced organically, so it is healthy and tastes delicious. German farms produce meat from beef cattle and pigs - both are the basis for Germany's many different types of sausages and specialities such as Black Forest ham. Additionally, typical regional products are meats from the heathland sheep of the Lüneburg Heath and the blackheaded sheep from the Rhön hills. Both are provided by specialized suppliers. Your palate is equally pampered by the choices of fresh fish. Enjoy sprats, herring and shrimps on the North Sea and Baltic coasts, eel in Lower Saxony and Mecklenburg, zander from the Oder and Elbe rivers, carp and trout from Franconia and the Black Forest and whitefish from Lake Constance.
Fruits from the tree and the soil
Plum spread, red berry compote and Black Forest cherry pie are German specialities made with typical German fruits. These are not only grown on large fruit farms but also in the orchards and private gardens around the countryside.
All along the Baltic coast the orange-colored sea buckthorn berries found their way into the local cuisine. It was not until the 1980s that they were recognized as a delicious, vitamin-rich superfood. Chefs and confectioners have since incorporated the fruit in new recipes for ice cream, fruit spreads, cakes and even liqueurs.
Many German dishes are based on apples. Wellknown apple growing regions in Germany include Baden and Lake Constance, the Rhineland, the Altes Land in Lower Saxony and the Oderland in Brandenburg. Apples are not only used in fruit salads, deserts and delicious cakes; in Hessen, tangy apple cider is a refreshing beverage to accompany food and to refine sauces.
"Apple of the earth" (Erdapfel) is a rather misleading German term for the potato. Although potatoes have only featured in German cooking for a few centuries, they are very popular in Germany. Regional specialities include boiled potatoes with pears, beans and bacon in Schleswig-Holstein, potatoes with celery and cream in the Palatinate and potato flan in the Sauerland. Mashed potatoes with apple sauce and black sausage are known locally as "Heaven and Earth", a speciality in Cologne.
Typical German vegetables: asparagus, cabbage and mushrooms

Pickled cucumbers are a specialty from the Spree Forest near Berlin and are very popular in the USA, today. Those from the Spree Forest are protected by the EU legislation that only permits gherkins from this area to be called "Spreewaldgurke". The Gurkenmuseum in Lübbenau traces the history of this delicacy. Food lovers should visit a pickling factory to sample the local marinated cucumbers.
In the spring, asparagus appears on the menus throughout Germany. The creativity of Germany's chefs extends well beyond the classic asparagus with hollandaise sauce to asparagus soufflé, asparagus confit and green asparagus ice cream.
Cabbage is perhaps the most traditional vegetable used in German cooking. It is grown mainly in the North of the country and appears most famously in the form of Sauerkraut and Rotkraut, both are vitamin rich side dishes to accompany meat. Curly kale with pinkel sausage is a speciality of Lower Saxony. Cabbage was once considered "poor man's food" but today it is enjoying a renaissance: It is tasty, versatile, low in calories and rich in vitamins and minerals.
Other vegetables traditionally grown in Germany and used increasingly in a variety of dishes include mangold wurzel, wild garlic and horseradish. Like cabbage, pumpkins come into season in the fall; their orange flesh brings a bright note to many German dishes in both sweet or hearty meals.
German cuisine would be unimaginable without onions. Not only do they spice up lots of recipes, they're also extremely healthy. In the fall, a popular South-German speciality is onion flan with bacon (Zwiebelkuchen) which is traditionally enjoyed with a glass of fresh, new white wine (Federweisser).
Mushrooms are widely used in sauces and soups, especially in southern and eastern Germany. In Swabia in the South, mushrooms are served in a creamy sauce with dumplings. Mushroom soup (Schwammespalken) is a speciality of the Vogtland region in the East. In the fall tradition has it that many Germans swarm into the woods to hunt for mushrooms throughout the forests in eastern and central Germany.