Places of interest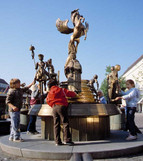 A town history trail with 35 information boards takes visitors on a tour of the historical old quarter passing St Martin's Church, one of the oldest Romanesque churches in Württemberg and carefully restored half-timbered buildings such as the Old Town Hall and the former salt store. The Friendship Fountain on the market square was constructed in honour of Sindelfingen's twin towns
St Martin's Church
This triple-naved, Romanesque pillared basilica dating back to the 11th and 12th centuries is the town's oldest and most important building in historical terms. Its eastern aspect is particularly attractive with its three apses, early Gothic sacristy and the original single tower.
Old Town Hall and salt store
The original Old Town Hall of 1478 and the salt store dating back to 1592 form an impressive grouping of timber-framed buildings. The archway between the two buildings indicates their original position around a courtyard in which wooden carts and the fire engine were once kept.
Market square
When the Middle Town Hall was built, the former cattle market began to evolve into the market square and the centrepiece of the growing town. Today it is the setting for numerous events as well as the colourful, bustling market held on Tuesdays, Thursdays and Saturdays. The Friendship Fountain by Bonifatius Stirnberg is decorated with movable figures.
Top of page
Map of Germany
Map showing all of Germany's TOP travel destinations...
Click here!
Search in surrounding area