Suggested excursions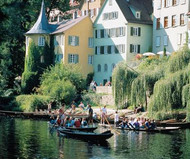 Ludwigsburg Palace, a baroque stately home with a fairytale theme park, is an attractive destination, as is Tübingen, a university town with literary associations and a tower dedicated to the poet Hölderlin. Stuttgart, the regional capital of Baden-Württemberg is only 13 kilometres away.
Ludwigsburg Palace
Built between 1704 and 1733 by Duke Eberhard Ludwig, its 452 rooms in 18 buildings make this one of the largest baroque palaces in existence in Germany. Known as the "Swabian Versailles" and surrounded by baroque gardens, the palace was formerly the ancestral home of the kings and dukes of Württemberg. Today state receptions are still held here, along with cultural events.
Tübingen
This Swabian university town combines the feel of a lovingly restored medieval town centre with the vibrancy of a youthful student town.
Stuttgart
Stuttgart, the centre of its own region and a city of music, is in one of the most beautiful settings of any European city. Surrounded by gently rolling hills, forests and vineyards, this lively city offers visitors an unforgettable panorama. Two palaces, the state gallery and the Wilhelma zoological and botanical gardens are just a few of its fascinating attractions.
Top of page
Map of Germany
Map showing all of Germany's TOP travel destinations...
Click here!
Search in surrounding area