Places of interest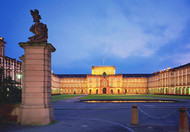 Mannheim, the secret capital of the Palatinate region, has always attracted artists and art enthusiasts throughout history. Today, the city continues to enjoy its reputation as a centre for art with an extensive range of cultural monuments.
Electoral Palace and palace chapel
Built between 1720 and 1760, the Electoral Palace is the largest self-contained baroque complex in Germany. With its extensive grounds, the palace clearly reflects the political ambitions of the Pfalz-Wittelsbach regents. A large part of the palace is now used by the university.
Jesuit Church
The Jesuit church is one of the foremost baroque churches in south-west Germany, whose excellent acoustics and atmosphere were praised by Mozart himself. It was built between 1733 and 1760 under the Palatinate electors Carl-Philipp and Carl-Theodor.
Water tower
Mannheim's famous landmark stands on the highest point of Friedrichsplatz square. With its magnificent fountains, this square is considered one of Europe's finest Art Nouveau architectural ensembles. In the summer, the area around the water tower is a popular meeting point for people of all ages. It's also a great place to stroll, relax, enjoy festivals, unwind and escape the stresses of everyday city life.
Top of page
Map of Germany
Map showing all of Germany's TOP travel destinations...
Click here!
Search in surrounding area