Events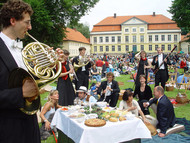 Lübeck offers a wide range of events throughout the year. Highlights include the Lübeck Spring Fair, the Schleswig-Holstein Music Festival, Baltic Sail and Travemünde Week. In winter there is a beautifully decorated Christmas market in the old quarter.
Schleswig-Holstein Music Festival
Lübeck is one of the centres of the Schleswig-Holstein Music Festival, a remarkable synthesis of wonderful scenery, romantic architecture and music of the highest quality. Magnificent country estates, huge barns and stables, churches, manor houses and stately homes in Schleswig-Holstein provide atmospheric settings for the concerts.
Lübeck Spring Fair
For 16 days the Wallhalbinsel peninsula near the Holsten Gate in Lübeck is transformed into a colourful fair with sidestalls, shooting ranges, sausage stalls, sweet stalls, roller coasters and children's carousels.
Baltic Sail
Tall ships and traditional sailing ships set sail for Travemünde, bringing plenty of seafaring romance and the sights and sounds of the ocean. A wide range of cultural events and entertainment also provide a maritime atmosphere.
Top of page
Map of Germany
Map showing all of Germany's TOP travel destinations...
Click here!
Search in surrounding area