Places of interest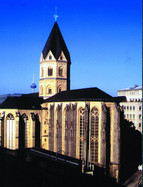 Cologne can look back on a long and eventful history, and you can see evidence of this all over the city. Cologne Cathedral is Germany's largest cathedral and a designated UNESCO World Heritage site. The city's Rheingarten park and old quarter are a firm favourite with locals and tourists alike, a great place to enjoy a stroll and stop off at one of the traditional breweries. You'll find a striking group of twelve large Romanesque churches in the city centre.
Cologne Cathedral, a UNESCO World Heritage site
Cologne Cathedral with its two 157-metre-high towers has been the city's famous landmark and Germany's most famous architectural monument for centuries. It took 632 years for Germany's largest cathedral to be completed. The cathedral is one of the most important pilgrimage churches in Europe, attracting visitors from all over the world.
Vibrant old town
Many are acquainted with Cologne's old town. Against the backdrop of Deutz and Hohenzollern bridges, the colourful houses are closely packed together, towered over by the Gothic cathedral and Romanesque Church of St. Martin on the banks of the Rhine. Countless restaurants, bars und snack stands in the narrow alleyways offer an attractive place for tourists and locals to spend some time.
Romanesque churches
Cologne is renowned for its churches. You'll find a unique ensemble of twelve large Romanesque collegiate and abbey churches, all true gems of medieval architecture, packed into a compact area within the medieval city walls. These are among the most important churches in western Europe.
Top of page
Map of Germany
Map showing all of Germany's TOP travel destinations...
Click here!
Search in surrounding area