Trade fairs/exhibitions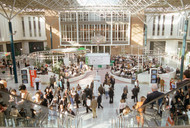 Boasting international flagship trade fairs and exhibitions, Cologne is the number-one choice for more than 25 industry sectors. Every year it hosts more than 50 international trade fairs with 42,000 companies from 120 countries, attracting around 2 million buyers from 175 countries. One in three visitors and over 50% of the exhibitors come from outside of Germany. Cologne Exhibition Centre also stages a number of trade fairs in other countries.
ART COLOGNE
At the end of October/beginning of November every year the world's foremost exhibition of modern and contemporary art takes place in Cologne, attracting over 50,000 art lovers. Art from over 300 galleries from more than 20 countries is showcased in an exhibition area covering 40,000m². The trade fair is open to the general public. All of the participating galleries are of international standing.
Anuga
Anuga, held twice a year in spring and autumn, is run by Cologne Exhibition Centre and the Federal Association of German Food Traders. It focuses on the food industry (everyday foods and gourmet foods), restaurants and catering, and shop facilities. This international flagship trade fair attracts more than 160,000 visitors and 6,000 exhibitors from 88 countries.
IDS International Dental Show
The international flagship trade fair IDS is held every two years in conjunction with the German Dental Industry Association. All about dental technology and dental medicine, it brings more than 77,000 visitors and over 1,400 exhibitors from some 50 countries to Cologne. The trade fair is held in April. The first day of the trade fair is reserved for trade visitors.
Top of page
Map of Germany
Map showing all of Germany's TOP travel destinations...
Click here!
Search in surrounding area