Events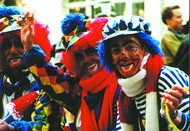 With culture, carnival celebrations, churches, street festivals and parades, Cologne has a number of highlights all year round.
Carnival
For five fantastic days carnival-goers flock to this stronghold of the Rhenish carnival tradition, which is taken over by the "Jecken", or madmen. The fun and games culminate with a carnival procession at the end of which the carnival fools are cheered on by the Prince, the Peasant and the Virgin, and sweets and small bunches of flowers are thrown to the crowds.
Cologne Lights
Every July, the skies over the city are set alight by the "Cologne Lights". A curtain of Bengali fire, waterfalls and hundreds and thousands of sparklers transform the riverside city of Cologne into a sea of flames and colour - the highlight is a spectacular evening firework display set to music. Visitors can also enjoy an exhilarating stage programme.
Christopher Street Day
Christopher Street Day is a festival for the gay community. Every year, the events featuring street festivals and a stage programme culminate with a large parade through the city centre.
Top of page
Map of Germany
Map showing all of Germany's TOP travel destinations...
Click here!
Search in surrounding area