Art & culture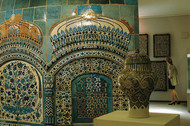 The K20 art gallery on Grabbeplatz is a forum for classical modernism (Klee, Picasso, Ernst, Beuys etc.), while21st-century art can be seen at the K21 art gallery in the Ständehaus. The museum kunst palast's collections range from contemporary art and classical modernism to works by Old Masters. The Benrath Palace and Park Foundation displays a rare fusion of late-rococo artistic styles and is home to the Museum of European Garden Art.
K20 and K21 art collections
The K20 collection of 20th century art has long been a highly respected institution within the museum world, primarily because of its outstanding collection. The museum focuses on paintings by western European and American modern artists. Its collection includes outstanding works by Picasso, Klee and Beuys. Works from the late 70s to the present are displayed in the K21 art collection, the museum for international contemporary art.
museum kunst palast
The museum has three main areas of interest: besides exhibitions of classical modern art and works by the old masters, the emphasis is on the presentation of contemporary art from all five continents. Particular highlights include the internationally renowned Graphics Collection with a large number of important sketches from the Italian baroque era and the Glass Museum.
Museum of European Garden Art
In the east wing of Benrath Palace, the Museum of Garden Art has been opened as part of EUROGA 2002 plus. There are four tours presenting sculptures, paintings, prints, porcelain, precious books, models and modern media styles and themes of garden art.
Top of page
Map of Germany
Map showing all of Germany's TOP travel destinations...
Click here!
Search in surrounding area