Places of interest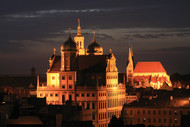 The magnificent buildings in the historical city centre – Elias Holl's Renaissance town hall with the Golden Hall and the Perlach Tower, the Fuggerei, the cathedral with its 12th-century stained-glass windows depicting the prophets, the two St. Ulrich Churches and the Church of St. Anna and burial chapel of the Fugger family.
Town hall square and Renaissance town hall with its Golden Hall
The town hall square (
Rathausplatz
), the heart of the old quarter, is dominated by the imposing town hall building. The most important secular Renaissance building north of the Alps was built at the height of Augsburg's prosperity. It is flanked by the almost 80 metre tall Perlach Tower, from which there are fantastic panoramic views. Inside the town hall, visitors can admire the Golden Hall. Another of Augsburg's famous landmarks is the Augustus fountain, the oldest of the city's three splendid Renaissance fountains.
The Fuggerei and the Fuggerei Museum
The Fuggerei is the world's oldest welfare housing and dates back to 1516. It was founded by the Fugger family to house hardworking and honest but poor citizens. The annual rent is still one Rhenish guilder (around €0.88). A stone plaque commemorates the fact that Wolfgang Amadeus Mozart's great-grandfather lived here 300 years ago. One of the houses is home to the Fuggerei Museum which shows how residents of previous centuries lived.
Cathedral of St. Mary's Visitation
The list of artists who have worked on the cathedral (built between the 9th and 14th centuries) is as long as the history of the building itself. The 10th century crypt is the oldest part of the building. Romanesque and Gothic frescoes adorn the walls, and there are beautiful painted vaults and four panel paintings by Hans Holbein the Elder. The "Prophet windows" are deservedly renowned. They are among Germany's oldest stained-glass windows depicting figures, and are believed to date back to the mid-12th century. The bronze door (around 1356) is made of 35 reliefs depicting scenes from the Old Testament. It is now on view at the nearby diocesan museum.
Top of page
Map of Germany
Map showing all of Germany's TOP travel destinations...
Click here!
Search in surrounding area