Nature & greenery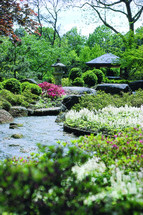 Enjoy the feeling of open space at Wittelsbach Park and the Siebentischwald woods. The 1972 Olympic canoeing slalom course is a good tip for sports lovers.
Siebentischwald woods
The 27 hectare Siebentisch Park, created in the early 20th century, links the city centre with Siebentischwald woods. The zoo and botanical gardens are right next door.
The botanical gardens
The 10 hectare botanical gardens have a wealth of herbaceous borders, glorious summer flowers, oriental horticulture in the Japanese Garden, a rose garden and music garden, the popular herb garden and farmer's garden and a large playground for smaller visitors.
Canoeing or rafting on Augsburg's Eiskanal
Augsburg's
Eiskanal
was the canoe slalom course for the 1972 Munich Olympics and is now Germany's only artificial white water course. It contains such infamous sections as the "washing machine", but with no sharp rocks or crevices beneath the surface, the
Eiskanal
is probably one of the safest white water courses in the world.
Top of page
Map of Germany
Map showing all of Germany's TOP travel destinations...
Click here!
Search in surrounding area