Suggested excursions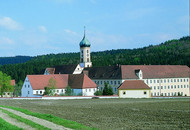 The Augsburger Land region between the Danube valley and the Unterallgäu has a variety of great places to visit. Mozart's family came from "Stauden", the picturesque hilly area in the south of the region. In the Wittelsbacher Land region (ancestral castle of the Wittelsbach dynasty) between Augsburg and Munich, the traditional Bavarian scenery provides a delightful backdrop for walking and cycling tours.
Sisi's Road
Sisi's Road links palaces, towns and other places of importance in the life of Bavarian-born Elisabeth, Empress of Austria and Queen of Hungary, who, as a young girl, was known by the pet name of Sisi. As well as architectural monuments and historical townscapes, the route takes in museums and cultural events, hotels, restaurants and legendary cafés. Augsburg marks the most westerly point on Sisi's Road.
"Augsburg - Westliche Wälder" nature reserve
A popular destination for nature lovers covering a total of 1,200m2. The forefathers of Wolfgang Amadeus Mozart and the Fugger family come from the region known as "Augsburger Land", a landscape of idyllic villages between Augsburg, Lower Allgäu and Günzburg. Günzburg is also home of LEGOLAND. Oberschönenfeld Abbey lies at the centre of the nature reserve.
Hiasl of Bavaria
Hiasl of Bavaria was a poacher, an outlaw and a social rebel. Born Matthäus Klostermayr in Kissing near Augsburg, he began his "career" as the "prince of forests" on the Mergenthau estate. The new "World of Hiasl" tells visitors all about the "German Robin Hood" and about his gruesome execution at Dillingen an der Donau in 1771. Hiasl of Bavaria still captures the imagination, even today. The exhibition is open at weekends from the end of April to the end of October.
Top of page
Map of Germany
Map showing all of Germany's TOP travel destinations...
Click here!
Search in surrounding area