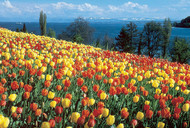 These two islands are surrounded by the emerald-green waters of Lake Constance. Reichenau Island is well-known for its abbey of the same name, a UNESCO World Heritage site. Mainau's reputation as an "island of flowers" is due to its stunning range of parks and gardens.
Glorious flowers and Benedictine art
The islands of Reichenau and Mainau are set against the backdrop of the Alps. Reichenau Abbey, a UNESCO World Heritage site, illustrates the religious and cultural role played by the abbey in the Middle Ages. The monks' illuminations are famous around the world. A riot of vibrant blooms with lush tropical and subtropical vegetation are the abiding memory of a trip to Mainau, the flower island. With thousands of different colours, shapes and fragrances, it is a unique experience for the senses.