Events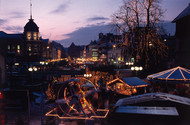 Lake Constance plays an important role in the cultural life of Constance. Whether it's the Lake Constance Festival, the Lake Night Festival or the Christmas market, the lake creates a unique atmosphere for each of these events.
International Lake Constance Festival
At the Lake Constance Festival visitors can see examples of regional culture as well as international artists and ensembles. Every year together with orchestral concerts and organ recitals there are art exhibitions and films on the annual themes. This festival of culture around the lake lasts from the first weekend in May until Whit Monday.
Lake Night Festival
Constance's first firework display took place in 1507 in honour of Emperor Maximilian. From the mid-19th century onwards the firework festival has taken place in the middle of August, at the height of the summer season. The fireworks are let off from boats out on the lake and the display is accompanied by an extensive programme of cultural events.
Lake Constance Christmas market
If you want to experience a Christmas market with a very special atmosphere you should come to Constance in December. There are around 125 festively decorated stalls not only in the market place in the town centre, but also in the harbour and even on boats. The unique combination of the festive period and the lake draws around 400,000 visitors to the Constance Christmas market every year.
Top of page
Map of Germany
Map showing all of Germany's TOP travel destinations...
Click here!
Search in surrounding area