Shopping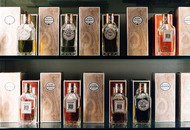 The town of Constance is one of the best shopping destinations in the Lake Constance area. If the weather is poor there is the Lago shopping centre which has a wide selection of stores, while nice days are ideal for a shopping spree in the pedestrian zone with its fantastic range of shops. One definite must is the Schoko-Haus chocolaterie near the Rosgarten Museum.
Lago Shopping Centre
The Lago shopping centre is located near the lakeshore, not far from the town centre. You will find almost everything you could wish for in shops ranging from well-known chains to intimate boutiques, covering a total of 22,500 square metres. Feeling hungry? There is a wide range of cafés and restaurants to choose from.
Pedestrian Area
In Constance town centre, Husstrasse with its statue of the famous German reformer Johannes Hus (1370-1415) and the surrounding streets are a shopper's delight where you can find a wide selection of the latest fashion retailers and exclusive shops.
Schoko Haus Chocolaterie
For a real shopping treat visit the Schoko Haus chocolaterie near the Rosgarten Museum where you can buy all kinds of chocolates from truffles to liqueur-filled delights - it's a chocolate lover's paradise. Come and discover the sweet world of chocolate.
Top of page
Map of Germany
Map showing all of Germany's TOP travel destinations...
Click here!
Search in surrounding area